Sun-kissed days, sand between my toes, pulsating music, laughter, fresh coconut water, grilled fish and peri-peri prawns, ocean waves, the cold sea breeze…these are the memories I will always have of Maputo.
The morning I received the e-mail detailing the #MaputowithGoogle trip, I remember I was lying at the back of a taxi heading to Lekki Phase 1.  I sat up straight and screamed out loud.
"I am going to Maputo".
I have always had this dream of visiting every city in Africa, but the four cities I have visited so far (thanks to budgeting issues) have been within West Africa.  Learning that I would be going to Maputo on a 2-day all-expense tour, put together by Google for influencers and journalists from across Africa (Nigeria, South Africa and Kenya) to help them see how useful Google can be as a holiday assistant was positively overwhelming. Maputo, one of Africa's most picturesque countries, along the coast of the Indian Ocean, would mark my first foray in Sub-Saharan Africa.
As I always do before visiting any new country or city, I engaged the Google app on my mobile phone researching the city. There were quite a number of negative articles referring to Mozambique as one of the poorest countries in the world with flaws such as a lack of infrastructure, police corruption and the safety concerns of the average developing nation; but I took solace in the fact that Lonely Planet referred to Mozambique as "…easily one of Africa's most attractive capitals."
The flight from Lagos to Johannesburg, where we would lay over before boarding another flight to Maputo, was scheduled for 10pm but I arrived the airport at 5pm. Thanks to the Google Maps app, I kept tabs on traffic patterns between Lekki area and the international Airport; and based on these studies, I knew I had to get to the airport extra early.
As I stood in the airport waiting, I couldn't help the feelings of anxiety. I was travelling with five other journalists/influencers who already knew each other: Tosin Ajibade a.k.a OloriSupergal who I have always admired, Sisi Yemmiewhose fantastic YouTube channel I was already following, Anderson a.k.a LazyWrita whose blog I followed from time to time, Olufemi Oguntamu a.k.a Penzaar of Penzaarville and Handle It Africa, and Ozi Okoli, an award-winning producer/presenter at TVC. Being an introvert, would I be able to blend it? Would they be nice to me? And vice versa.
Anderson and Penzaar were the first to arrive, and in less than five minutes, we were taking pictures and laughing at each other's jokes. It was as though I already knew them. Next was Sisi Yemmie and Tosin, then Ozi. After we secured our boarding passes and went through immigration, we stopped to watch the football match between Nigeria and Argentina. We were determined to finish the match before boarding…and we had really hoped for a victorous game, but alas! Nigeria lost the match to Argentina and we left the country nursing bleeding hearts.
My Google Trips app offered numerous suggestions on what we could do in the city, but we couldn't do  much with the information as we did not have the South Africa visas, and going into the city would be risking deportation. Also, it was too cold.
It was winter in Johannesburg and somehow, none of us had planned for it. The cold was so bad that even the hot cups of coffee were no help. Penzaar and I strolled around the entire airport until it was about 20 minutes to boarding. We were delighted to hear our flight announced. We were happy to leave.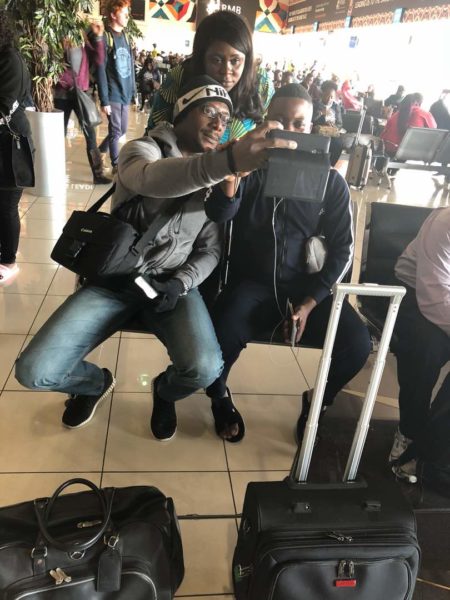 As fortune would have it, we arrived Maputo 15 minutes early.
As the plane hovered over the city in preparation to land, I looked out the window and beneath the plane's belly was a jigsaw of closely clustered shacks and lush trees. The layout was mostly the same pattern as other African cities I had visited. We exited the plane immediately after touch-down and headed towards immigration. The exotic sounds of Portuguese filled the air around, but I wasn't fazed as I had already downloaded the Portuguese file on my Google Translate app and was ready to tackle any linguistic challenge online or offline.
The Maputo Mavalane International Airport was rather small, compared to the airport at Johannesburg. And while it was clean and organized, it was also old and in dire need of painting. Fortunately, we cleared immigration, and customs in no time. We paid $50 each for a 30-day visa and  show proof of accommodation in the country a(Radisson Blu Hotel & Residence, Maputo)
Once outside, members of the Google Africa team: Mr. T and Mich were waiting.
The skies were hazy, but blue. There was a hint of a breeze and I inhaled the tropical, thick, humid Maputo air. I was excited again.
As we drove out of the Maputo airport, the vibrant sounds of the street echoed around us. There was a stretch of shanty towns/ bairros and local markets which sort of gave a Cotonou vibe. Just before the Independence Circle though, we saw a curved wall with bright red frescoes celebrating the revolution. The wall was designed by artist Malangatana Valente, who was also a freedom fighter and revered in all of Maputo.
As we approached the city, we saw an outline of modern buildings, like any other city in the developed world.
The hotel, Radisson Blu Hotel & Residence, Maputo  was exquisite.  We checked into our rooms and had about foir hours to rest and have lunch before dinner.
I spent the first few minutes going through the welcome gifts from the Google Africa team, then took a bath and perused the hotel menu.
The set menu was a bit restricted and it was mostly a selection of sea food so I went to Google Maps to check the review on the hotel food. The popular recommendation was the prawns,  as apparently,  Maputo serves the best prawns in the continent. I went for Grilled Mozambican praws, homenade potato wedges and garden greens. It was super delicious.
I was able to catch a quick nap before I was roused by the notification from Google Calendar to get ready for the dinner at Zambia.
On our way to the restaurant, I met Susan, another Nigerian who had arrived a day before us. She was quite a ray of sunshine and we kind of bonded immediately.
Zambi is one of the best restaurants in the city.  Their menu offers a wide selection of mouth-watering dishes, from seafood to European cuisine and sushi and the amibiance is just divine. While the classy interior has a large indoor seating area, we opted for a long table outside.
The service was great. One of the waiters, named Pirish (which according to him means small plate) taught us some key words in Portueguese:  Thank You –  Obrigado/a (male/female),  You're welcome –  De nada,  Hello-  Olá , Goodbye – Adeus, and   Please- Por Favor. His English was not very good so we were able to communicate with him using the voice function of the Google translate app.
He further entertained us by performing Several songs by Nigerian music artiste, Davido.  According to him, Davido was a huge favourite in Maputo.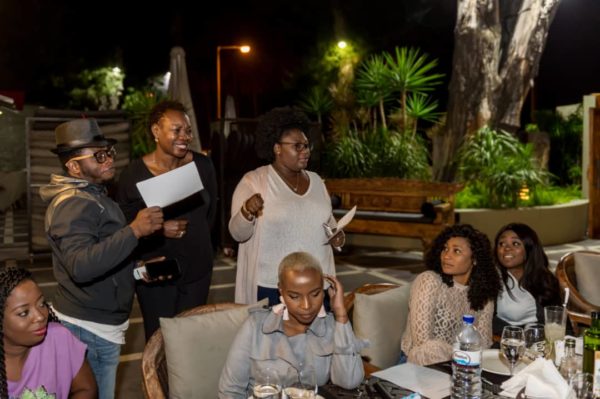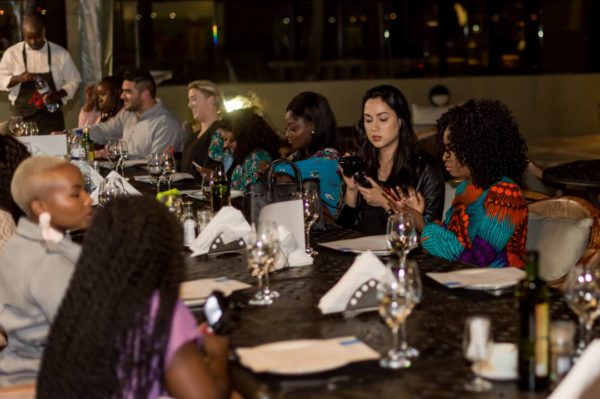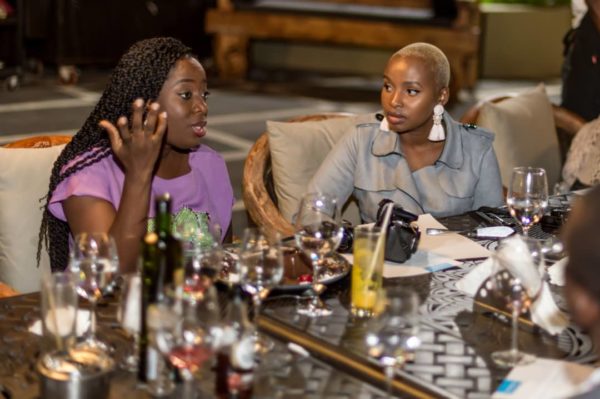 We were offered a 3-course meal. I started off with Mojito and crispy prawns, then had "The catch of the day" (which turned out to be a red snapper) paired with buttery potatoes and steamed veggies as entrée and a moist chocolate cake and Amarula ice cream for dessert.
The menu was written in Porteguese and English. However, to make it fun we were asked to try and use the Google translator app to translate the Porteguese texts in the menu. To achieve the task, we had to use the camera function of the app and it actually worked!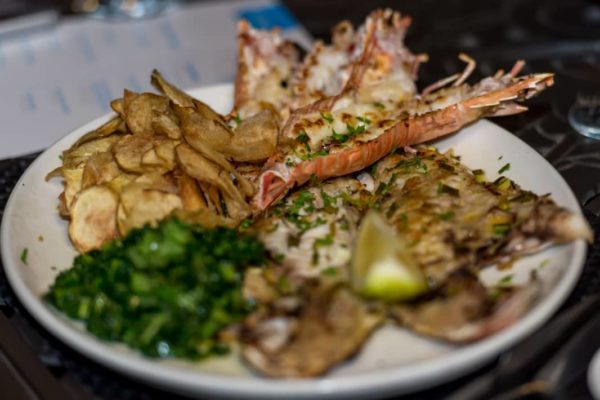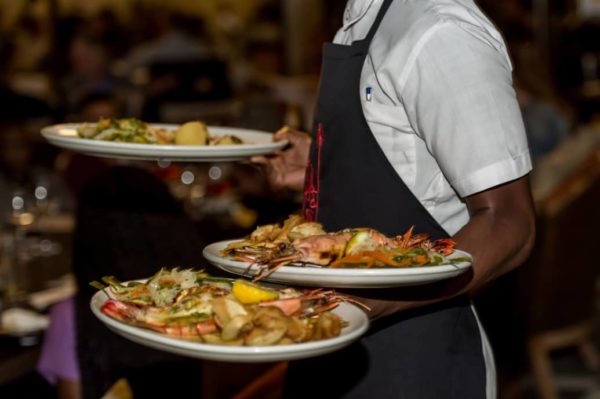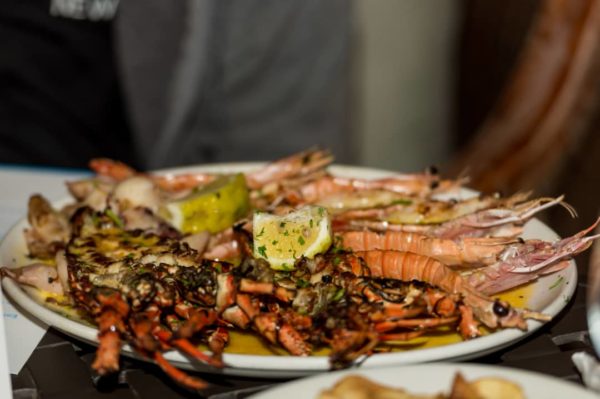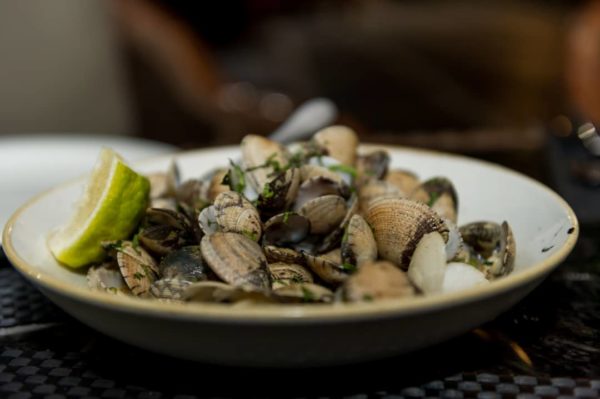 The dinner was quite an exciting event, as it offered us the chance to meet  and socialize with the other influencers from Kenya and South Africa before Day one.
CREDIT: BellaNaija